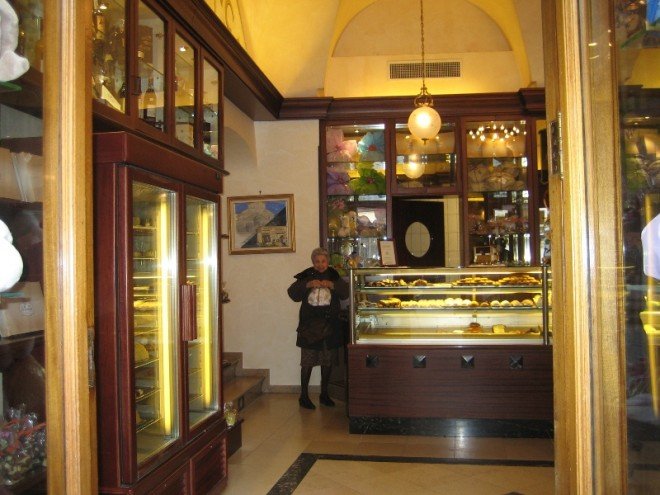 When Lina, my mother, enters the beautiful pastry shop in Amalfi she stands very still for a while, enjoying the subtle elegance and the warm beauty of the Pasticceria's interiors. After a while she approaches the colorful selection of Sfogliate, Delizie al limone, Capresi, Babà and other sweet delicacies. Sometimes the pastry shop owners, Andrea or Nicola, dressed in elegant black and white old fashioned suits, help her to make her choice.
Next time you arrive in Amalfi and stand before the cathedral´s imposing staircase, I suggest you to change direction and go first to the pastry shop. Whether you opt for a Delizia with lemon custard or for a tiny almond lemon cake, you will definitely enjoy the unforgettable taste of traditional pastry art. You have the choice of sitting in the beautiful interiors with its distinguished elegance of former times or in front of the pastry main entrance to enjoy the lively activity of everyday's life on the small Piazza.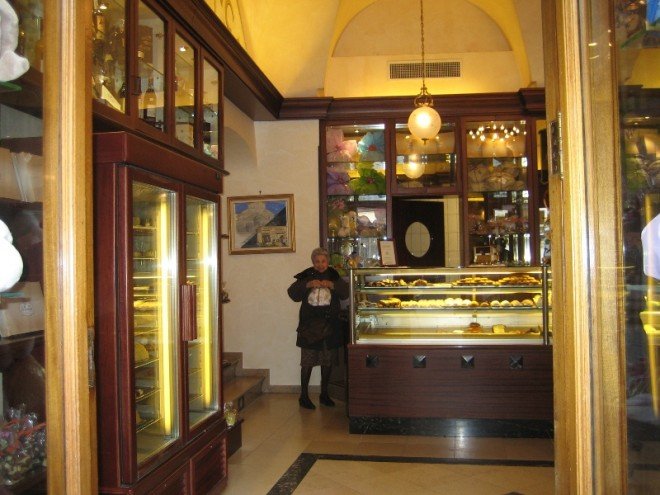 … wie Sie auch vom weiten erkennen können, befindet sich Lina – meine Mutter – im siebten Himmel. Bei jedem Besuch dieser wunderschönen Konditorei in Amalfi steht sie zunächst ganz still vor der bunten Auswahl von Sfogliate, Delizie al limone, Capresi, Babà und anderen süßen Köstlichkeiten echter Konditoreikunst. Besuchern aus allerWelt geht es nicht anders , wenn sie erstmalig diesen zauberhaft schönen Raum betreten. Die Pasticceria wurde 2001 in die Liste "Locali storici d'Italia" aufgenommen.
Wenn Sie nächstes Mal vor der Kathedrale in Amalfi stehen, werden Sie sich an meine Geschichte erinnern und eine Programmänderung vornehmen. Ob Sie sich für eine mit Zitronencreme gefüllte Delizia oder für ein Mandelschokoküchlein entscheiden werden, Sie werden auf jeden Fall echte Sinnesfreuden erleben.
http://www.adeles-goodcompany.de/inc/uploads/logo-adele-web300px-pos.png
0
0
adele
http://www.adeles-goodcompany.de/inc/uploads/logo-adele-web300px-pos.png
adele
2013-01-30 12:35:58
2019-08-27 14:37:42
The Triumph Of Taste and Beauty (2)