---
Fall – Winter 2021
Dear travel buddies,
we are keeping our fingers crossed and wish to welcome you soon. Stay healthy!
Let's enjoy again the unimaginable beauty of the Cilento-Region together. Rough mountains and lovely hills, silver rivers, long chestnut wood forests, sandy beaches and  rocky coasts. Our itinerary will bring you closer to the taste of a thousand-year-old culinary past  still present in the memory and the daily life of its people. Furthermore you will visit the Unesco Site of the Archeological park of Paestum with some of the best preserved Greek temples outside Greece. You can choose a silent tour to enjoy the  heritage of the Greek art only with your travel mates. Adele and her archaeologist can provide you with all the necessary informations before you enter the temples site.
5 Days Itinerary starting from Salerno
Day – Arrival in Salerno. Explore the old town of Salerno with an art historian. Dinner together with Adele's Good Company
Day –  Trip to Santa Maria di Castellabate and its lovely downtown area along the beach. Visit of Castellabate. Dinner in Salerno in one of Adele's favourite trattoria.
Day –  Paestum and the archeological site. Lunch in an organic mozzarella cheese farm – Wine Tasting with local delicacies  in a cozy winery in the countryside of Agropoli. Sunset on the beach.
Day – Prignano Cilento, a small hamlet overlooking the coast – The white fig of Cilento –  Product tasting in a fig confectionery with local delicacies. Evening free in Salerno
Day – Enjoy the italian way of life before departure in the lively downtown area of Salerno – Goodbye dinner together
You will stay in a **** Hotel at the beginning of the Amalfi Coast just a few minutes drive from Salerno – a very comfortable place for your daily trips.
Travel Services / person
1 welcome drink, 4 dinners – not on the 3rd and 4th day – without wines and drinks, Lunch In Paestum, 1 wine tasting with local food products, Product tasting in Prignano with cheese and figs, 1 coffe break in Castellabate and on the 5th day. Tour assistance in Salerno.
Price/participant in Double Superior room with italian breakfast: from 900 Euro. Ground trasportations and transfer from and to the Airport at extra charge.
Single travelers welcome: Single Superior Room accomodation from 1100 Euro with personal tour guide during the trips included – Ground trasportations and transfer from and to the Airport at extra charge.
Private Coach Transfer from Naples Capodichino Airport can be arranged for you at a convenient fare.
Ground transportation from your Hotel can be provided ONLY from 4 – 7 participants. Daily travel guide can also be booked.
info@adeles-goocompany.com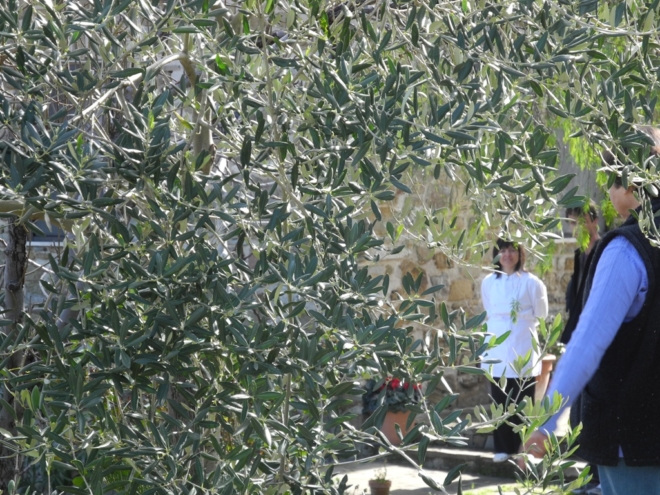 Es war hochinteressant, Vannulo bei der Fertigung des Mozzarella zuzuschauen und dann die unglaublichsten Gerichte aus Büffelmilch zu probieren, nachdem wir über die Wasserbüffel und deren Reinigung gestaunt hatten. Es ist wirklich ein edler Betrieb.